2018 Season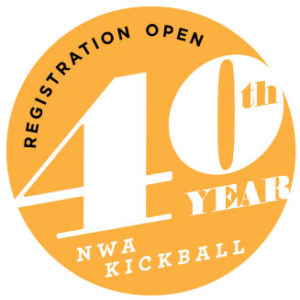 Click Here to Register –
please join us for our 40th season of NWA Kickball.
---
Skills Clinics
Come join us Sunday, January 21 and Saturday, January 27
2:00 – 4:00pm
all ages welcome
new players, returning players or anyone ready to be back on the fields again
Bring a friend and have some fun
---
First Annual NWACA Neighborhood Kickball Tournament
Northwest Austin Civic Association (NWACA) is working to build the Murchison Playground. This playground will benefit the community as it adds a great playground with plenty of shade for all to enjoy. You can support the effort by playing in the NWACA Fundraising Tournament, powered by NWA Kickball.
All proceeds will go towards the new playground.
Form a team in support of this great cause.
Saturday, January 20th from 10am-6pm at the NWA Kickball fields.
Game times will be provided in advance.  Anyone can form a team.
Co-ed Exhibition Division – All ages
Co-ed Competitive Division – 18 and above
Participation fee is $100 per team and includes a 2 game minimum.
For details go to the NWACA website, www.nwaca.org for the registration form.
If you have questions, please contact kickball.nwa@gmail.com.
---
NWA Kickball – At A Glance
5 Divisions – Ages 4-18:
PeeWee: 4-6    Rookie: 7-8    Junior: 9-11    Seniors: 12-14    Teens: 15-18
Season Schedule:
Weekly schedule: 2-3 events, practice on weekends and games during the week
Game times 5:30 and 7:00pm
Capstar lending Fields at NWA kickball Location:
3701 Far West Blvd, on the grounds of Murchison Middle School
Registration Fees:
PeeWee and Rookie: $125 Junior/Senior/Teen: $150
Discounts available for Siblings
Sponsorship's Available:
Fan/Supporter/Family: $50/$100/$200    Team: $250    Out Field: $500    Field: $1,000   League: $1,500
Scholarship Program
We are a volunteer run organization. Come join us at the fields!
---
NWA Kickball in the News
NWA was featured on KVUE thanks to the Rockin' Rebels (R3) and their sponsor Rebel Pizza.

ROCKIN REBELS KICKBALL from Shawn Clynch on Vimeo.